Note :
B-ONE Carbon Hercules Electric Skateboard $150 OFF Code "B-ONE"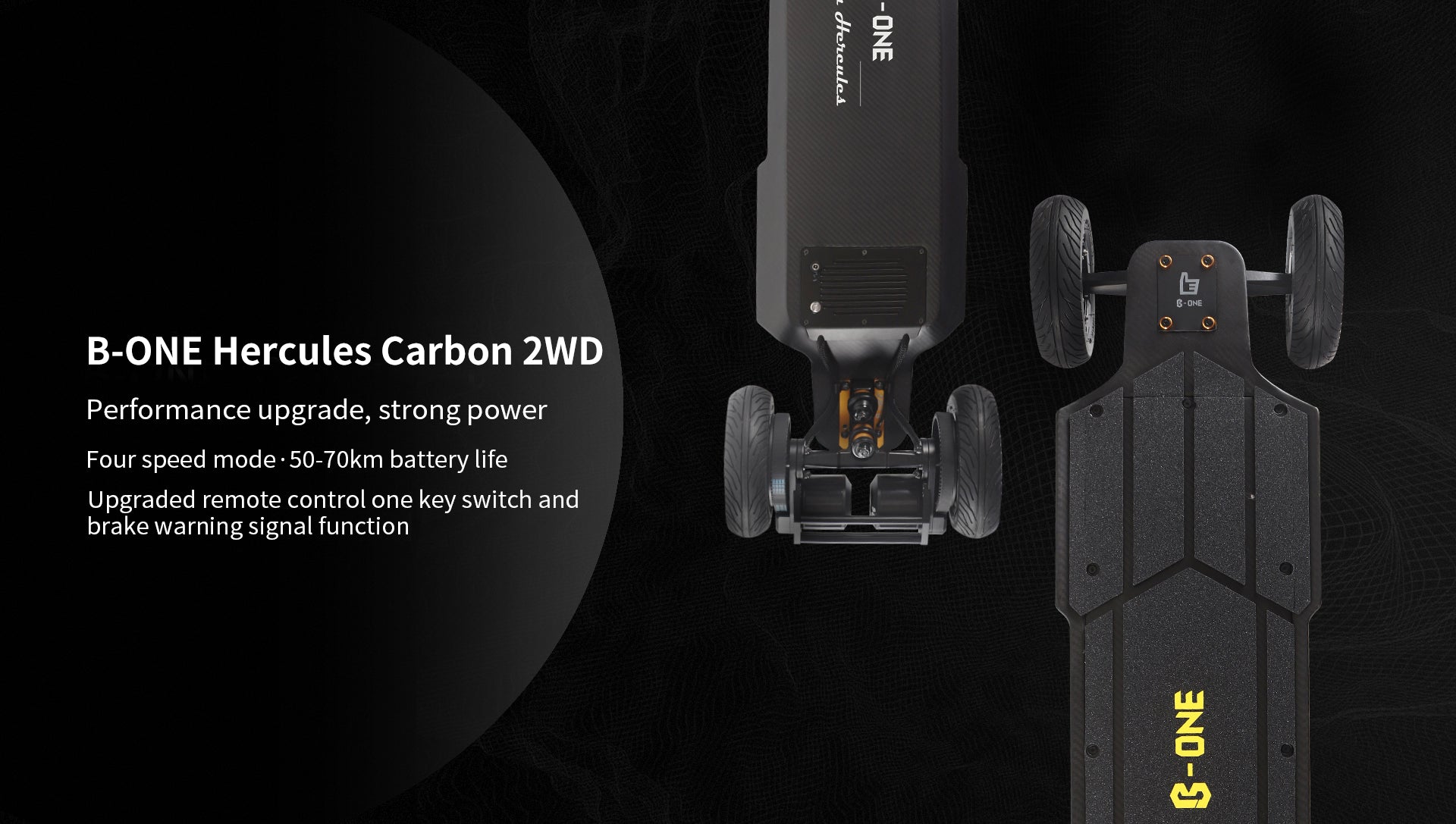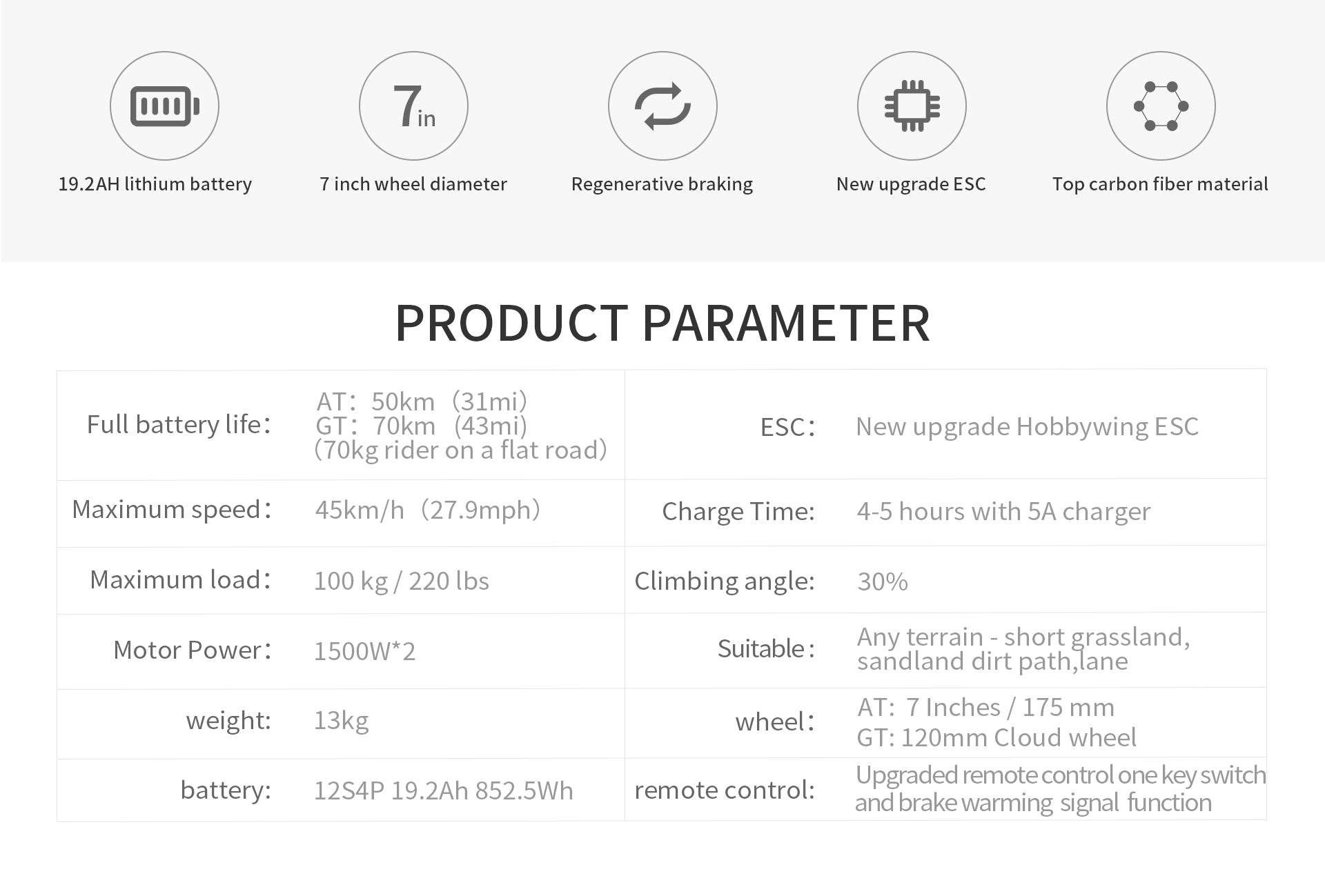 Note :
B-ONE Carbon Hercules Electric Skateboard  $150 OFF Code "BoneGTR01" 
Asia ( China Mainland, Hong Kong, Macau, Taiwan, Singapore,South Korea, Thailand, Malaysia, etc.) Fast shipping 3-5 wordays 
US,UK,Europe,Australia,New Zealand, Mexico,ect. needs around 2-3weeks by air
needs around 40-60days by sea/train(due to the covid-19 and local policy, the delivery time might be a little late)
 Other Regions (please write to us to confirm the delivery time): Sea & Railway shipping needs 30-60days
Specification of the Carbon  AT Electric Skateboard 
Deck :  Highest grade Carbon Fibre, 46.5 Inches / 1185 mm Matte
Battery: Panasonic NCR21700T 19.2AH  Lithium battery 12S4P
Motor:  Dual 6368 Belt Motor 170Kv 1500 Watt*2
ESC: The brand new Hobbywing ESC allows quick acceleration, quick responses from the controller and produces less heat, making overheating much less likely.And has the function of remote start-up
Remote:  Ergonomic Hobbywing Remote with 4 Speed Modes, 2.4G wireless,with LED display
Brake Light: Yes
Braking: Regenerative Braking
Trucks:  Forged 306 mm / 12 Inch width with double King Pin
Wheels: 
AT:  7 Inches / 175 mm All-Terrain Inflatable wheel

GT: 120mm Cloudwheels with damping foamies core
Suitable Terrain:  Any terrain - short grass, dirt tracks, roads & footpaths
Bearings:  Ceramic Bearings (water & dust proof)
Recharge:  4-5 hours with 5A charger
Top Speed:   45 km/h / 28 mph 
Range:  Up to 50 km / 31 miles (GT can Up to 70km / 43 miles) 
Note :    70kg rider on a flat road
Weight: 13kg
Max Load: 150 kg / 330 lbs
Power Slides: Yes
Hills: Up to 30%
WARRANTY: 180 days
What's in the Box? 
1 x Completely Assembled eBoard

1 x Front Head Light
1 x OLED Remote with USB Charging Cable
1 x Certificated 5A Charger
1 x DC Port Charger Adapter (US, AU, or EU plug up to your location)
1 x T-tool
1 x User Manual
2 x Extra Belts
what is the durometer rating for the black bushings?

100A

What is the correct setting for Motor Pole Pairs?

7

What is the correct Drive Ratio for the 120mm cloud wheels?

2.9

what is the correct Drive Ratio for the 7\" tires?

4.4

Is it possible to know what type of batteries you use and how many Mah??is the distance range in KM is real??? Thanks

Panasonic NCR21700T 12s4p 19.2ah, range ~ 7 inches AT 50km/31miles   ,cloudwheel GT can Up to 70km / 43 miles(base on  70kg rider test).

Are there any highlights of the remote control and main board of this electric skateboard?

The main board can automatically read the parameters of different motors and work with the best settings, access the brake light function, increase the Turbo mode, stronger power, and give full play to the full performance of the motor.

How to apply to become B-ONE\'s new product video/ blog Review partner?

Create account: Click
Your youtube Channel,blog website .
Best : Maybe esk8 youtuber has experience DIY electric skateboard, and tested the various electric skateboards.

Is the speed and battery life actually tested?

70kg rider on a flat road tested.

How well does this off road electric longboard climb hills?

Hills: Up to 30%,
Max Load: 100 kg / 220 lbs.


How can I apply my coupon code to my order?

On the checkout page, fill in your discount code and click Apply.

Can I do any adjustment to my order after the I finish the payment?

You must send an email to communicate within 24 hours. because usually the day before's order is on next day produced . Please Contact pre-sale@boneeboard.com

How do i cancel my order?

You may email us before we ship the order(tracking provided). Then we can process a refund. But once the order shipped, we cannot call back the shipment, that's why we cannot cancel the order. Normally we will process the order within 3 business days.

What would I do if I have quality issue with the products?

Please provide us with relevant information such as the order number and contact phone address. It is best to send relevant videos and pictures. We will determine the quality of the product as soon as possible, send spare parts and give instructions on how to replace and repair. Please Contact after-sale@boneeboard.com OR Via facebook message

With the 2-1 package Can I request the board to come (shipped) with the cloud wheels on it?

Hi, the 2 in 1 option, the package come with the 175mm inflate wheel and 120mm cloud wheel.

When will the board be ready to ship?

After placing the order, it will be shipped within two days after confirming the order. (The tracking number is updated within 3-5 days.) 
The current air transport time limit is (7-15 days),
Shipping and railway within 30-50days.